The Beginners Guide To Picture Framing
By David A Schummy
Picture Framing is a great hobby to pursue that could always lead to working as a professional framer. You can easily make enough money by making picture frames if you become skilled. You can frame photographs, paintings, watercolors and even your favorite team jersey along with many other things. When you frame really nice things you will be able to impress your family and friends and you may even start to sell them.
The great thing with the craft of picture framing is that it can give families with limited resources the chance to have some really fine home decorations as well as improving their self-esteem since they will be creating these treasures with their own hands. It does take time to become proficient but everyone has to start somewhere in order to become successful. It's never too late to start learning a new craft and picture framing is a fun hobby to explore as well.
If you're interested in learning more about how to frame pictures you should definitely research the resources that are available on the net. You will be able to find plenty of useful framing tips and soon you will start practicing what you've learned. You can also get a lot of information from the picture framers forums online where the art of framing pictures is discussed.
When you've read a few articles and watched some videos you will know that you need some basic picture framing equipment to start making frames. A good mitre saw is a tool that you can't live without if you want to become a picture framer. You will also need a decent mat cutter, string clamp and some other basic tools. These tools are the fundamental things you need to get started but you can always expand your equipment as you progress to making more complex picture frames.
Learning how to frame is a very satisfying hobby especially when you can sit back and say "I made that."
It feels great to know that you've made the nice things around your home and your family will be very rewarded as well. Framing is a great skill to develop and perhaps one day it could become your profession if you desire.
I remember one of my students who had a full-time job in a hospital critical care unit telling me they thoroughly enjoyed the release that making a few frames provided. She explained at work when something went wrong at work somebody usually dies but if you cut a picture frame wrong it was no big deal, just fix it up and in the end the result was fantastic. Her experience was always positive. One of the things that has always kept me interested even after 25 years is the look of delight in the eyes of someone you have just framed a picture for.
Everybody gets something out of the craft so I urge you to give it a go.
David Schummy, owner of Fix-a-Frame, is a qualified picture framer from Brisbane, Australia.
David authored 16 of the 22 modules the Australian Government uses to train picture framers. He has taught picture framing to professionals and hobby framers since 1991.
His latest DVD "Seven Secrets to Making Picture Frames" is available from https://www.fixaframe.com.au
Visit www.endurart.com for your Free E-Book "The 10 Questions To Ask All Picture Framers"
Article Source: https://ezinearticles.com/?expert=David_A_Schummy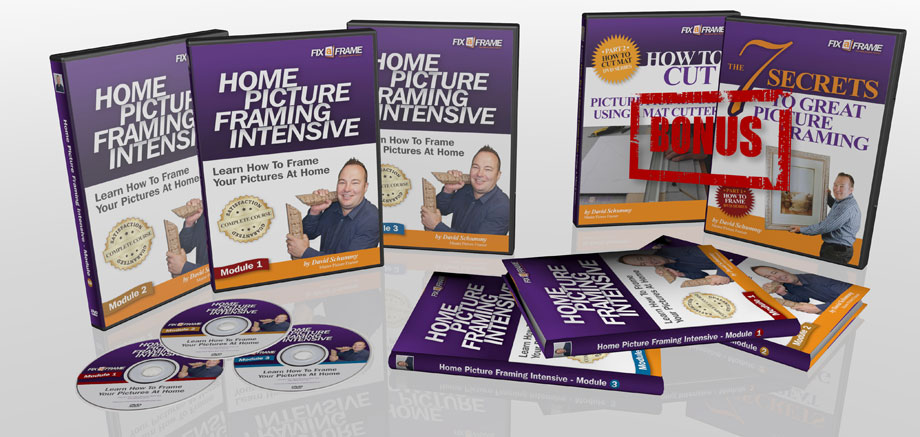 (I reserve the right to end this offer at anytime without warning.)
Recent Articles By David A Schummy
• Published: March 14, 2012
Cutting Picture Frame Matting is easy when you know how to use a Utility Knife properly. You can cut the mat board in several passes if it is the external cut but if you are cutting a mat window on a 45 degree angle you must cut it in one pass.
---
• Published: March 13, 2012
Learn how to frame your pictures by attending a picture framing course. This article outlines the types of picture framing classes available and what sort of information they contain.
---
• Published: February 21, 2012
Joining and assembling metal picture frames can be fun and rewarding when you know how. Explore the two common types of aluminium picture frames, side-loading and back-loading and understand how to frame your pictures using metal frames.
---
• Published: February 14, 2012
How to Stretch an oil painting or acrylic on canvas using picture framer's stretcher bars. Why you should use the correct stretcher bar for your picture and how to decide which stretcher bar to use.
---
• Published: February 3, 2012
Before you start to cut the mat board opening for a picture frame you need to ensure that your mat board is square and sized correctly. Squaring up a mat board is the first step in picture framing when you are framing a photo or framing a picture under glass.
---
• Published: January 25, 2012
The choices of timber you make when framing your pictures can have a dramatic effect on your end result. Will the frame buckle or join poorly? Choosing a warped or twisted piece of wood will not help you to make a great picture frame. What are the benefits of hardwood versus softwood?
---
• Published: January 12, 2012
What are the trends in picture framing in 2012 and how can you frame a picture with both minimalist and creative techniques. This article is about the observations of a trendy custom picture framer based in Brisbane, but the trends in picture framing generally come and go on a worldwide cycle. Modern picture framing is often dictated to by the manufacturers of furniture rather than any specific picture framing trend. One thing is certain, wooden picture frames are desirable and sort after.
---
• Published: January 12, 2012
When you are considering framing a needlework or tapestry you should discover the benefits of learning how to stretch a needlework, how to pin and lace a needlework and what the best techniques for framing needlework are. In this article I explain the basic techniques for framing cross stitch and tapestries and what materials you need to get the best results.
---
• Published: January 4, 2012
How do you start to make a great picture frame? Does it start with a design in mind? In this article the fundamental principles of designing a great picture frame are explored.
---
• Published: January 4, 2012
Find out the common backing boards used for picture framing and mounting pictures. Why you should choose one backing material over another. Understand the properties of foam boards, corflute, MDF, Masonite or hardboard, e-board and other cardboards. What makes one more suitable than another when it comes to picture framing?
---
• Published: January 4, 2012
Your choice of picture framing materials and how you use them to frame pictures can dramatically affect the longevity of your artworks. Over the centuries the best artwork has survived due to several reasons. Firstly, the artist chose durable materials to produce their artwork and secondly the best artworks were cared for by their owners and framed using tried and tested picture framing techniques.
---
• Published: January 4, 2012
Choices made when selecting a picture frame or a method to frame a picture can dramatically affect the lasting qualities of the framed picture. It is usually in hindsight that we regret poor framing decisions made in haste or pressured into by a custom picture frame consultant.
---
• Published: December 30, 2011
A beginner's guide to buying used picture framing tools. Traps and pitfalls to be aware of when buying second-hand framing equipment. Where to look for used equipment.
---
• Published: December 30, 2011
Are you thinking of making your own picture frames? Not sure where to start. Turn your interest in picture framing from a hobby into a profession when you become skilled.
---
• Published: December 30, 2011
What is the right style of picture frame? How do you decide what style of picture frame will work best with your picture. In this article, David Schummy explains his fourth secret for making great picture frames.
---
• Published: December 29, 2011
Why you should choose conservation framing to protect the signatures from fading and how to ensure the jersey won't deteriorate. Tips on what to avoid and what the best materials are to use when framing memorabilia.
---
• Published: December 29, 2011
What does being true to the art mean? Does it mean being true to the art of picture framing because picture framing is truly an art in itself or is it being true to the art that is being framed. Choosing sympathetic and harmonious framing designs begins with knowledge. Knowledge of the history of framing. Knowledge of design principles and knowledge of art styles and décor.
---
NEW DVD SERIES